Yes, you can paint a fiberglass door! First things first, the door needs to be primed with the correct primer. There are many different primers for multiple substrates so it is important to mention you are working with fiberglass when you contact a painting professional. If you are comfortable with DIY, let the sales representative at the paint store know that you are looking for a bonding primer or an adhesion primer. 
If you choose to use an oil-based primer, note that all products are not created equally. Don't get the cheap stuff!!!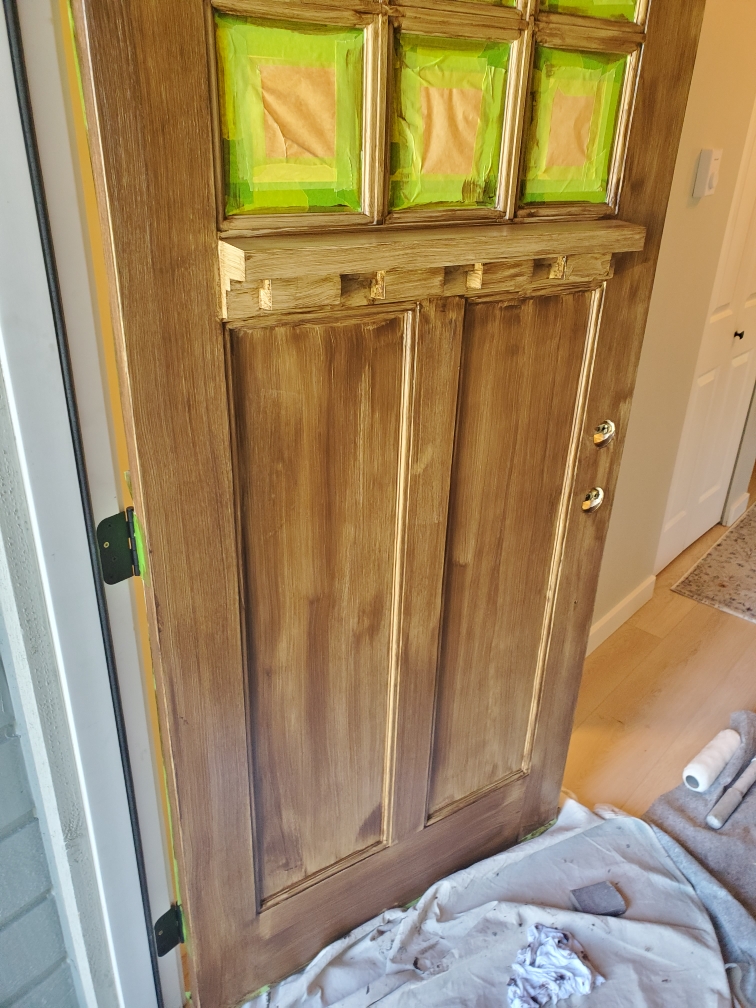 Recommended Primers for fiberglass doors:
What kind of paint or stain can I use on my fiberglass door?
It's safe to say when you are working with fiberglass, you must carefully select the paint or stain if you are going to use oil-based products. Make sure the product clearly states "for wood veneer, fiberglass and more" in the description or the fine print. In our opinion, as trusted painting professionals the best paint to use is a higher-end 100% acrylic paint for a fiberglass door. Using a good quality 100% acrylic paint after priming is what is recommended for allowing a more flexible topcoat. Using more flexible paint can withstand more of our ever-changing weather elements. In our opinion, a semi-gloss finish helps with wash and wear as well as resisting stains.
However, if you are looking for a more natural look, you could try a gel stain. Make sure to get an "Opaque" stain, as they are recommended for fiberglass doors. Semi-Transparent or Transparent will not work on fiberglass. Stains are typically available in a variety of wood tone colors. Double-check with the brand you select to see their color options.
Recommended Stain Or Paint for your fiberglass door:
Minwax- Gel Stain from Sherwin Williams comes in 12 different colors
Solo – 100% Acrylic paint for the interior or exterior from Sherwin Williams
How do I paint a fiberglass door?
First, you must prime the door with an adhesion or bonding primer.

You can then topcoat it with a good quality 100% acrylic paint. 
For more information on painting doors please check out our article on how to paint doors!